Шипперке (Schipperke) 83
Группа: 1. Пастушьи породы
Вес: около 5,4-7,3 кг
Рост: в холке 32-36 см
Шипперке - порода, происходящая из Бельгии, где ее применяли для охраны барж, пришвартованных на ночь к берегам каналов (кстати, «schipperke» по-фламандски означает «маленький капитан»).
Не говоря о том, что он первоклассный сторож, шипперке - самая преданная и любящая собака, особенно хорошо он ладит с детьми. Неприхотлив, закален, как правило, долго живет. Но нуждается в безраздельном внимании и любит, когда с ним обращаются, как с полноправным членом семьи; к чужим людям привыкает далеко не сразу.
Шерсть у шипперке густая и жесткая, плотно прилегающая на спине и боках, и гладкая на голове, ушах и нижней части конечностей. Обильная, стоящая торчком шерсть на шее образует гриву и манишку, задние ноги одеты в пышные 'штаны'.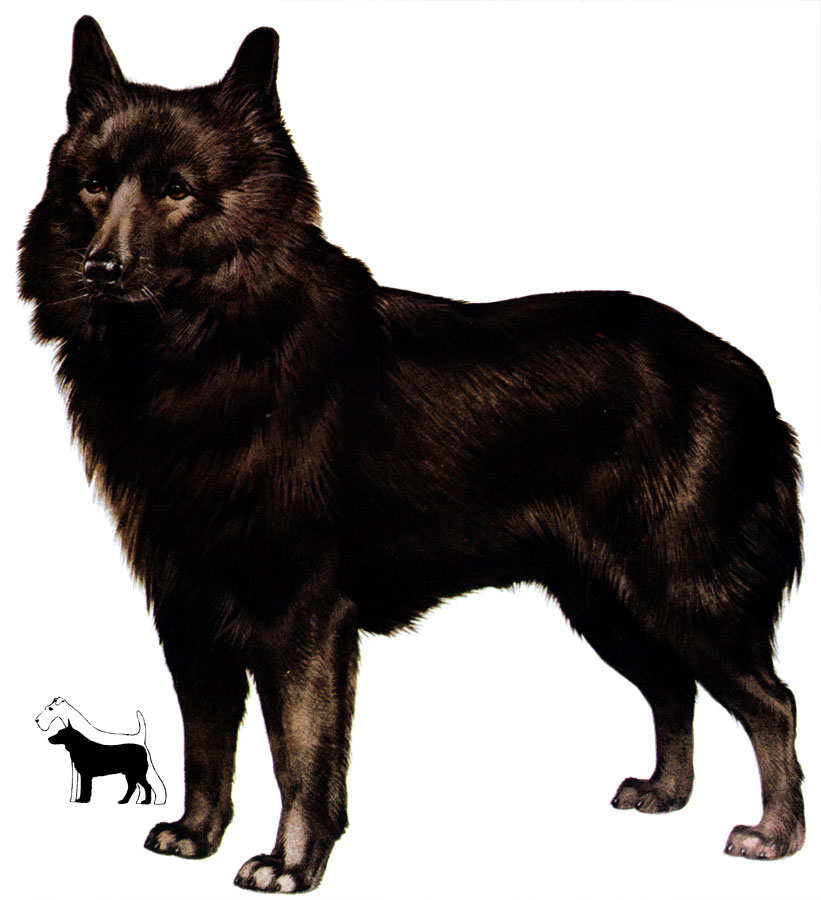 Шипперке (Schipperke) 83
Достоинства
Привязчив
Отличный сторож
Ладит с детьми
Удобного размера
Вынослив
Сложности
Нуждается в любви и внимании
Прогулки
Шипперке может пробежать 10 км, не выказывая ни малейшей усталости; но если его владелец живет в городе, он довольствуется и значительно более скромным моционом.
Уход за шерстью
У шипперке густая плотная шерсть, которая требует минимального ухода.
Кормление
Не представляет особых проблем: шипперке ест всё, что дадут. Одноразового кормления в день (и несколько галет на ночь) для него вполне достаточно. Рекомендуется половина или целый стандартный рацион (тандартным рационом можно считать: 250 г вареного или сырого мяса с добавлением черствого серого или черного хлеба (или каши), 1 чайной ложки (5 мл) стерилизованной костной муки и 1 капли свежего рыбьего жира или жидких поливитаминов).
Из истории породы
Родина шипперке - Бельгия, но его часто считают голландской собакой, возможно потому, что Бельгия и Нидерланды одно время были единой страной. Породе больше ста лет, многие даже утверждают, что почти двести, но данных, подтверждающих это, нет.
Происхождение и развитие породы вызывает многочисленные споры. Одни считают шипперке представителем семейства шпицев, другие - результатом скрещивания терьера с карликовым шпицем. Вполне вероятно, что у шипперке общий предок с грюнендалем, поскольку он напоминает более мелкую разновидность этой бельгийской породы.
ВЫДЕРЖКИ ИЗ СТАНДАРТА
Общий вид
Маленькая, компактная собака, с острым, умным взглядом, поразительно живая; создается впечатление, что она всегда начеку.
Окрас
Должен быть черным, но допускаются и другие сплошные окрасы.
Голова
Лисьего типа, череп не округлый, но достаточно широкий, плоский между ушами, с небольшим переходом от лба к морде. Морда умеренной длины, но не слабая, хорошо заполненная под глазами. Мочка носа маленькая и черная.
Круп
Бесхвостый, закругленный и более легкий, чем передняя часть корпуса.
Конечности
Сильные и мускулистые. Бедра хорошо развитые; скакательные суставы расположены довольно низко.
Лапы
Маленькие, кошачьи, с хорошей опорой на пальцы.
SCHIPPERKE FCI-Standard N° 83 / 05. 05. 2003 I GB
TRANSLATION: Mrs Jeans-Brown, revised by Mr R. Pollet and R. Triquet.
ORIGIN : Belgium.
DATE OF PUBLICATION OF THE ORIGINAL VALID STANDARD : 25.03.2003.
UTILIZATION : Small guardian and companion dog.
CLASSIFICATION F.C.I. :
Group 1 Sheep and cattle dog (except Swiss cattle dogs).
Section 1 Sheepdog.
Without working trial.
BRIEF HISTORICAL SUMMARY : In the Flemisch dialect, Schipperke means " little shepherd ". The common ancestor of the Belgian Shepherds and the Schipperke was probably a sheepdog called Leuvenaar, an early breed, usual1y rather small and black. The Schipperke' s origins go back to the 17th century. About 1960, the Schipperke was the favourite dog of working people and cobblers from the St.Gery quarter of Brussels, who used to organise competitions to show off the intricately worked brass collars with which they adorned their dogs. Its tail was completely docked, a fashion which seems to have existed since the 15th century. It was renowned as a catcher of mice, rats, moles and other vermin. The Schipperke was shown for the first time in 1882 in the town of Spa. It became fashionable thanks to Queen Marie-Henriette of Belgium. It was introduced into Great Britain and the U.S.A. in 1887. The first standard was drawn up in 1888 by the breed club, founded that year, which is the oldest breed club in Belgium. Over the years great efforts have had to be made to unify the type. Indeed at that time there was discussion about the different varieties coming from Anvers, Louvain and Brussels.
GENERAL APPEARANCE : Lupoid. The Schipperke is a sheepdog of small dimensions but very solidly build. Its head is wedge-shaped with a quite well-developed skull, and a relatively short muzzle. Its body is wel1-balanced, short, quite broad and stocky but its limbs are fine-boned. Its coat is very characteristic, well-furnished and with straight hair, forming a ruff, a mane, a frill and culottes which give it its truly unique outline. The difference between the sexes is evident. Its straightforward morphology , allied to its sheepdog characteristics and temperament, and added to its small size, explains its great popularity which extends well beyond the Belgian borders.
IMPORTANT PROPORTIONS :
" Height at withers equals length of body, hence this is a squarely built dog.
" Chest comes down level with elbows.
" Muzzle is definitely less long than half the length of the head.
BEHAVIOUR/TEMPERAMENT : An excellent small guard dog, an exceptional alarm, bubbling with vitality , aloof with strangers. Active and busy, agile, tireless, perpetual1y interested in what is going on around it, inclined to snap if anyone approaches objects it has been given to guard, very gentle with children, always curious to know what is going on behind a closed door or behind an object which is being moved, showing its reaction by its high-pitched bark, its raised mane and hackles. Its is an inquisitive dog which will hunt rats, moles and other vermin.
HEAD : Lupoid, wedge-shaped, but not too long and wide enough to balance with the body. Brows and cheek bones are moderately arched. Transition from cranial region to facial region is visible but must not be too pronounced.
CRANIAL REGION : Quite a wide forehead, narrowing towards the eyes, slightly rounded when seen in profil. The top lines of the skull and the muzzle are parallel.
Stop: Pronounced but not exaggerated.
FACIAL REGION :
Nose : Smal1, nose leather always black.
Muzzle : Tapering towards the nose; well-chiselled, not too long, end not truncated; length approximately 40 per cent of the total length of the head; rectilinear foreface.
Lips : Black, close-fitting.
Jaws/Teeth : Healthy, well-set teeth. Scissor bite, pincer bite tolerated. Complete dentition according to the dental formula. The lack of one or two premolars 1 (1PM1 or 2PM1) or of a premolar 2 (1PM2) is tolerated and the molars 3 (M3) are not taken into consideration.
Cheeks : Clean, blending imperceptibly into the sides of the muzzle.
Eyes : Dark brown in colour, small, almond-shaped, neither sunken nor protruding; sharp, lively and mischievious look, black-rimmed eyelids.
Ears : Erect, very small, pointed, triangular (as far as possible equilateral), set high but not too close to each other, firm and extremely mobile.
NECK : Strong, powerfully muscled and appearing very voluminous because of the abundant hair on the ruff, medium length, well-set into shoulders, carried well and higher when dog is alert, upper line being slightly arched.
BODY : Short and wide, therefore cobby, but not over bulky or heavy , ideally fitting into a square; its length from point of shoulder to point of buttock is roughly equal to height at withers.
Topline : The topline of the back and loin is straight and firm, often rising slightly from croup to withers.
Withers : Very pronounced and seeming even more so because of the mane.
Back : Short, straight and strong.
Loins : Short, broad and powerful.
Croup : Short, broad and horizontal; the rear section of the croup i.e. the junction between the croup and the point of the buttocks is pleasingly rounded, a shape known as a Guinea pig rump.
Chest : Well let down to level with the elbows; broad in front and also behind the shoulders, therefore having a good spring of rib. In profile the forechest is prominent.
Underline : The underline of the chest well-let down, reaching the elbows, harmoniously and gently rising towards the belly, which has a moderate tuck-up, neither pendulous nor whippety .
TAIL : Missing but if there has been no docking the tail will be long, broad at its base, tapering towards the tip and reaching at least to the hock. In repose, preferably hanging down, the tip slightly curved back level with the hock. Can be raised when on the move, in line with the topline, but preferably carried not higher than this. The tail set must never destroy the line of the croup which must blend into a harmonious roundness with the thigh and give the impression of a Guinea pig rump. Curled tail tolerated but not desired.
LIMBS : Fine-boned and set well beneath the body.
FOREQUARTERS :
Overview : The front legs are straight viewed from all sides and are perfectly parallel when seen from the front; their length from the ground to the elbow equals approximately half the height to the withers.
Shoulders : Long and sloping, normal shoulder angulation.
Upper arm : Long and adequately sloping.
Elbows : Strong, neither turning in nor out.
Forearm : Straight, quite well-set apart when seen from the front. Carpus (Wrist) : Strong and not prominent.
Metacarpus (Pastem) : Quite short, from the front continuing the line of the forearm, in profile at most very slightly sloping.
Feet : Smal1, round and tight (cat feet), arched toes, short, strong nails, always black.
HINDQUARTERS:
Overview : The hindquarters must be situated under the body and be perfectly parellel when viewed from behind.
Thighs : Long, strongly muscled, seeming even wider than they are because of the thickness of the culotte.
Knee (Stifle) : Approximately in line with the hip; normal knee angulation.
Lower thighs : Approximately the same length as the thighs.
Hocks : Normal angulation.
Metatarsus (Rear Pastem) : Rather short; dewclaws not desirable.
Feet : Like front feet or marginally longer .
GAIT/MOVEMENT : Movement at the trot is supple and firm with a reasonable reach and good rear thrust, the topline remaining horizontal and the limbs moving parallel; the front movement should be in harmony with the rear movement and the elbows must not turn out. At faster speed the limbs converge.
SKIN : Tight fitting over the whole body.
COAT
HAIR : The top coat is abundant, thick, straight and sufficiently harsh, with quite firm texture, therefore dry and resistant to the touch, forming an excellent protection together with the soft thick undercoat. Very short hair on the ears, short hair on the head, the front part of the front legs, the hocks and rear pastems. On the body, the average length hair is close-lying. Around the neck the hair is much longer and more off-standing, beginning with the outer edges of the ears, forming, especial1y in the male but also in the female a wide and very typical ruff (long hair around the neck, in tufts on each side ), a " mane " (long hair on the top of the neck, continuing as far as the withers and even the shoulders) and a frill (long hair on the underside of the neck and on the chest, stretching between the forelegs and gradual1y fading away under the chest). On the back of the thighs long and abundant hair covering the anal region with tips angled inward in a very typical way form the culottes. The tail is furnished with hair the same length as that on the body.
COLOUR : Totally black. The undercoat need not be completely black but can also be dark grey provided it is totally hidden by the top coat.
WEIGHT :
Between 3 and 9 kg. An average weight of 4 to 7 kg is sought after .
Dog weighing less than 3 kg or those weighing more than 9 kg cannot be considered excellent.
FAULTS : Any departure from the foregoing points should be considered a fault and the seriousness with which the fault should be regarded should be in exact proportion to its degree.
" General appearance : Cloddy, lacking substance; too long or too short in leg; long body, fitting into a rectangle.
" Head : Too long or too short. Lines of skull and muzzle not parallel, foxy-faced; too prominent brows or cheek bones.
" Cranial region : Too narrow, forehead too rounded or domed (apple-headed).
" Muzzle : Too long, pinched; thick, truncated, convex top line.
" Dentition : Unevenly spread or badly set incisors, lack of one incisor (1I), of three premolars 1 (3 PM1) or two premolars 2 (2 PM2) are serious faults.
" Eyes : Large, round or protuberant, light in colour (hazel eyes still acceptable).
" Chest : Narrow, flat, cylindrical. Not sufficiently let down.
" Croup : Long, sloping, raised, break in the roundness of the rump (transition from croup to back of thighs).
" Limbs : Limbs which have too little or too exaggerated angulation.
" Movement : Close-moving, too short a stride, too little drive, bad dorsal transmission, too high a front movement or too hopping a rear movement.
" Coat : Too short (close to body), too long, too thin, soft or silky, wavy , lying too flat to the body or hanging down; too little or no ruff, mane, frill or culotte (more serious a fault in the male, especially a lack of ruff). Not enough undercoat.
" Colour : Grey, brownish or reddish lights in the top coat. Some occasional white hairs e.g. on the toes. A little greying for example on the muzzle as a sign of age is tolerated.
" Temperament: Apathetic or timid.
ELIMINATING FAUTLS :
" Temperament : Highly-strung, aggressive or overly shy.
" General appearance : Lack of breed type.
" Teeth : Over- or undershot jaw, even without loss of contact (inverse scissor), wry mouth, lack of one canine (1 C), of one upper carnassial (1PM4) or one lower carnassial (1M1) of one molar (1M1 or 1M2 but not any M3), of one premolar 4 (lower PM4), of one premolar 3 (1PM3) as we1l as another tooth or in total 4 missing teeth or more ( excluding the four premolars 1 ).
" Nose, lips, eyelids : Lack of pigment.
" Ears : Falling or half erect.
" Coat : Long or soft or silky , i.e. an obviously "long-haired " type of coat; fringes of long hair on the ears, behind the limbs etc.; total lack of undercoat.
" Colour : Any coat colour except black (apart from grey, brownish or reddish lights) or with very small white marks even on the toes.
" Weight : Clearly outside the designated limits.
Any dog clearly showing physical or behavioural abnormalities shall be disqualified.
N.B. : Male animals should have two apparently normal testicles fu1ly descended into the scrotum.
Источники:
Палмер Дж. 'Ваша собака. Практическое руководство по выбору и уходу за собакой' - Москва: 'Мир', 1988 - с.247
http://old.fci.be/nomenclatures_detail.asp?lang=en&file=group1
http://www.infodog.ru/index.php?go=Pages&in=view&id=45